Charter Schools are conceptually interesting entities in the education landscape. In the United States, they offer primary and secondary education based on a set of principles and core beliefs that drive their methodologies. While they receive less public funding than public schools, they have the advantage of having less rules and regulations. They are generally founded by parents, teachers, or organizations, and there are currently greater than 6000 schools in the United States, accounting for more than 6% of all public schools. However, the perception of charter schools is quite ambivalent, and the efficacy of each depends on how they convert resources into teachers, spaces, and initiatives that best serves their students and credo. The problem in addressing charter schools as one collective ideal is that they are fundamentally very different. While I'll address the broader scope of charter schools in a longer piece, I wanted to take the time to talk about two charter schools in the Pittsburgh area that surprised me with their commitment and depth to their ideals.

Propel Braddock Hills School

Transforming Spaces
The most interesting element of Propel Braddock Hills is actually its location in the middle of a shopping center. If nothing else, the conversion of space into a elementary and high school setting is an interesting sight. While it still features traditional classrooms and hallway structures, there were a few classrooms held in a space without walls, separated simply by organic dividers. The use of the space has evolved over the past few years, and while it doesn't seem like the most efficient use, I believe that it's valuable for the school to continue introducing various teaching methods, allowing students to interact with their space differently. Next, the cafeteria features a very central design, with many entrances and exits, ledges, and a stage in front. It's a creative combination of elements that makes the space feel a lot less like a school, but a community. Majority of public schools in the United States have a standard layout, but Propel Braddock Hills demonstrates a unique approach to converting the already available structure to suit their needs, resulting in a surprisingly appealing and distinct environment.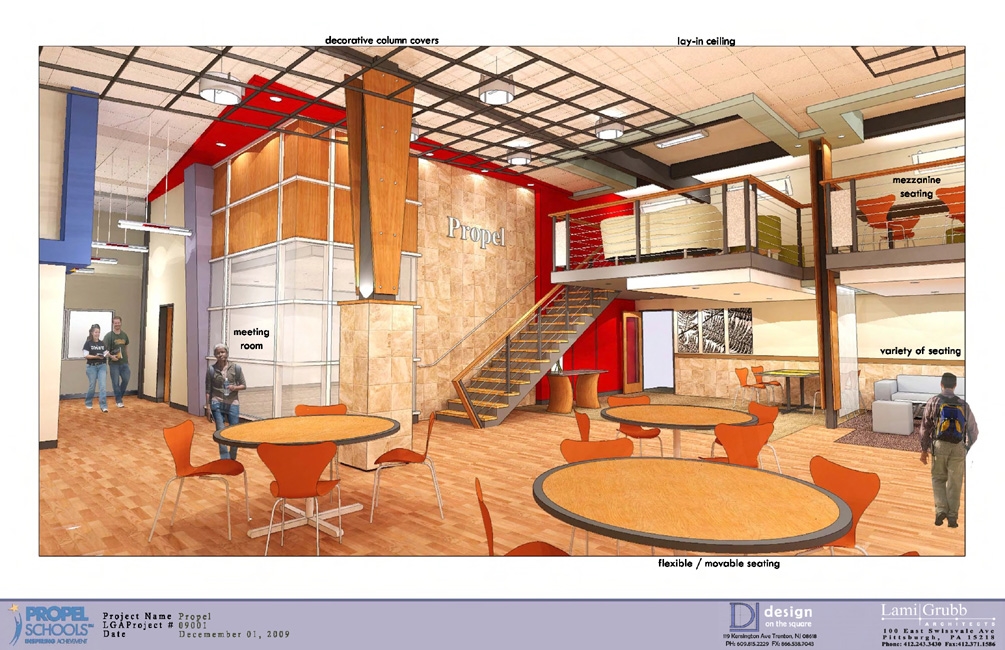 Student-Driven Decisions
The most exciting element at Propel Braddock Hills was the interaction between administration and students. Intentionally or inadvertently drawing from the teachings of Connected Learning, the school actively seeks to connect the students with their environment. One example of this include students learning economics running the school store, the profits from which go to fund student initiatives. Students can also propose ideas for after school projects, the way they're rewarded for success, usually involving writing grants and propositions to the school that are either internally funded or through outside sources. In addition to interacting with their school environment, the students have been engaged with their communities from designing store fronts to revitalizing playgrounds. In my brief time there meeting principal Joe Oliphant and several teachers, it's evident that the school has an exciting crew of educators dedicated to their growing student base, a 27% increase from last year.
Environmental Charter School

Good Design
Like Propel Braddock Hills, the Environmental School has a unique setting being next to Frick Park, enabling them to integrate a lot of nature into their focus and structure. More impressively, ECS is a paragon of how to embrace the current culture and technology in their learning spaces. My initial impression of ECS is how prevalent and inter-connected the design theme is throughout the building and communications. A muted grey background accented by various earth-toned colors and accompanied by a refreshing font sets the tone for the core principles of the school and it feels like a school that belongs to the new generation. Design elements also extend to the classroom, one example of which is a whiteboard comprised of individual slates that students can work on and then combine together for everyone to look at and discuss.

Data-driven Approach
Justin Aglio revealed many insightful paths ECS will be taking moving forward, the most interesting was a data-driven approach to improvement for both the school and the students. Currently, the system of evaluating schools and students is based on a very limited or biased set of metrics that don't adequately isolate specific areas of improvement. Again, using a very design-heavy approach, not unlike David McCandles's work with "Information is Beautiful", ECS is developing a comprehensive set of rubrics to measure and visualize the efficacy of their initiatives as well as track progress on their goals. Regarding students, Aglio and education consultant Norton Gusky both argue against the current system of measuring progress using limited evaluation metrics and reductionist report cards, instead proposing a more comprehensive database to track skills and proficiency. This would help educators, parents, and students better understand individual strengths and target areas for improvement.
Final Thoughts
I want to thank Norton Gusky, Justin Aglio, and Joe Oliphant for speaking with me and sharing their insight and experience. During my visits, it became evident how different these two charter schools are based on their ideals, setting, student body, and how they allocate their resources. The flexibility and willingness to innovate allows them to pursue initiatives that wouldn't be as available or possible in a standard public system. The principals and educators in both schools interacted within their respective spaces with a vitality that's hard to describe in words. That being said, both schools along with charter schools in general are still learning and adapting to best cater to their respective communities. It'll be interesting to speak to them again in a year to see the progress they have made, lessons they continue to learn, and how they expect to maintain their innovative spirit once their structure and practices solidify. My next few articles regarding charter schools will look at a more numerical approach to the efficacy of charter schools compared to public schools, evaluate if comparisons between charter schools are fair, and gauge what other educators and parents think of the comparison.